Life After High School - Different Paths to Success
Whether you're a rising junior or senior, recent high school graduate or thinking about going back to school, you might be wondering "Is college right for me?". While the answer to this question will depend on your personal goals and circumstances, there is no doubt, that higher education (earning a certificate, diploma, or degree after high school) pays off.
The image below shows that as you get more education, the more you can earn (higher paying job) and the easier it is for you to find a job!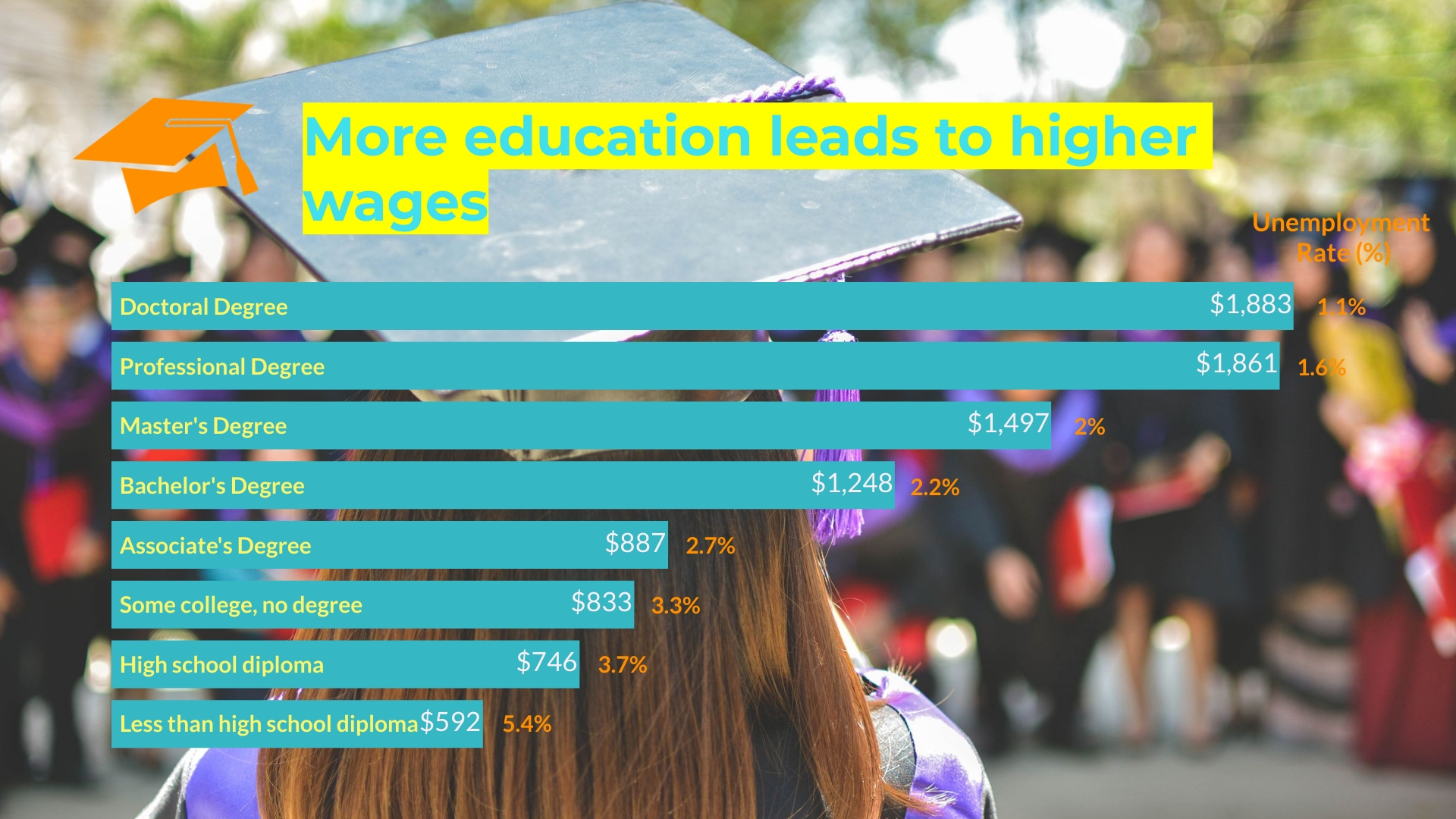 Luckily, there is more than one path to a high paying job. Learning more about these options can help you decide what's the next best step for YOU. Given your current goals and circumstances, you and your high school counselor can discuss these and decide what may be a good option for you.  
Go to Four-Year College/University– Four-year colleges offer a variety of courses, degrees, extracurricular activities, and networking opportunities. These perks often come with a higher price, but financial aid and scholarships can make even the most expensive college affordable.  

Go to Trade or Vocational/Technical Schools – These programs are career or trade-focused schools that prepare you for specific jobs and may offer a stepping-stone to a four-year college. These programs are affordable, take less time to complete (1 month-2 years), offer flexible schedules, and provide hands-on training specific to your field. Many also offer internships or apprenticeships.
Enroll in an Apprenticeship or Internship Program – A great way to explore your interest and obtain valuable work experience is through internships and apprenticeship programs. These programs can be paid or unpaid, are fairly short (1 month-3 years) and can provide formal, specialized training and mentoring with an experienced person. Some can even lead to college credit or full-time employment.
Go to the Military – Serving in the military can have many benefits, including getting a job or college-level education down the road. Keep in mind that joining is a big commitment.
Get a Job –Jumping straight into the job market can be rewarding, but you may be limited in the types of jobs and pay you can get, especially if you have little to no experience working. Still, you can develop valuable skills and possibly discover new interests or a career path that leads to further training or education.
For More Education Resources and Tips, Click Here!
Published 6/14/2021
Sources
Next Steps-New Hampshire. (2021). Education Options After High School Toolkit. Retrieved June 4, 2021 from https://nextsteps-nh.org/toolkits/education-options-after-high-school/
Stefanakos, V.S. (2020). After high school: Different ways to thrive. Understood. Retrieved June 4, 2021 from https://www.understood.org/en/school-learning/choosing-starting-school/leaving-high-school/after-high-school-different-paths-to-success
Stefanakos, V.S. (2020). 9 Ways Your Teen Can Learn a Trade. Understood. Retrieved June 4, 2021 from https://www.understood.org/en/school-learning/choosing-starting-school/leaving-high-school/9-ways-your-teen-can-learn-a-trade
US Bureau of Labor Statistics. (2020). Learn more, earn more: Education leads to higher wages, lower unemployment. [Chart Data] Retrieved June 4, 2021 from https://www.bls.gov/careeroutlook/2020/data-on-display/education-pays.htm